Pneumatic Tube Systems in Hospitals
Optimization of hospital logistics through pneumatic systems
Transport speed from 3 to 6 meters/second
Average transport time for pharmaceutical goods comes to 2-3 minutes
More efficient use of laboratory equipment thanks to continuous workflow
Prompt and error-free delivery of test results, reports, etc.
Reduction of a possible spread of bacteria or viruses following less movement of sick patients and less crowding at clinics
Safe management of contaminated specimens or samples
Prevention of cross-contamination thanks to safety and hygiene
Sterility
Sick patients do not have to walk to the blood collection room
Improvement of patient satisfaction and consequently hospital reputation
Faster throughput time of laboratory testing minimizes crowding at clinics
One-stop service with connections to laboratory and central pharmacy
24/7 operation and thus speedy 24/7 transportation within the hospital
Spontaneous transport – just in time and immediately when required
Fast link of patient areas with laboratory, pharmacy, medical records and X-rays
Better management of facilities reduces operational costs
Pneumatic tube systems are powerful and efficient transport options that lead to an optimization of processes in hospitals. By using pneumatic tubes, hospitals save valuable time for:
obtaining required information about patients
taking laboratory samples and instantaneous sections
the transport of blood
Our pneumatic tube solutions are adapted to the application in healthcare organizations. We provide various carrier inlets to treat sensitive transport goods with care. For example, we offer carriers with coolers for items that need a chilled environment. When transporting blood preservations, we consider the weight, the transport duration, the haemolysis as well as centrifugal and accelerating forces. Furthermore, it is possible to send time-critical items on priority lanes, such as tissue samples taken during an operation.
Thanks to pneumatic tube transport, staff are able to devote more time to personal patient care.
Exemplary transport items for hospital tube systems:
Blood preservations, EDTA tubes, plasma, tissue, swabs, laboratory samples in general, instantaneous sections, injections, prescriptions, patient documents, X-rays, general documents, drugs, test results
Typical transportation routes of pneumatic tube systems in hospitals:
| | | |
| --- | --- | --- |
| Transport of | From | To |
| Blood specimens, blood cultures, swabs, urine samples, stools etc. | Outpatient clinics, wards, ICU, OT etc. | Laboratory, pathology |
| Prescription (Rx), drugs, medicines | Pharmacy | Inpatient wards, ICU, operating theatres, outpatient area |
| Documents, test reports, forms, X-rays etc. | Registration area, medical record, personnel, mail room etc. | Various departments |
Typical transport volume in hospitals:
| | | | | |
| --- | --- | --- | --- | --- |
| Size of the hospital by number of hospital beds | Number of air tube system stations (typically) | Average number of carrier sendings per day | Total carrier travel distance per day | Total carrier travel distance per year |
| 250 | 15-20 | 600+ | 90 km | 30.000 km |
| 500 | 30-40 | 1500+ | 225 km | 70.000 km |
| 1000 | 60-80 | 2500+ | 375 km | 115.000 km |
| 1500 | 100-120 | 3500+ | 525 km | 160.000 km |
With these data and information about the salary and staff time spent walking to transport good you can calculate possible cost reductions through the implementation of a pneumatic transport system in your hospital.
Examples of pneumatic tube installations in hospitals and laboratories
Carriers for hospitals and hospital laboratorys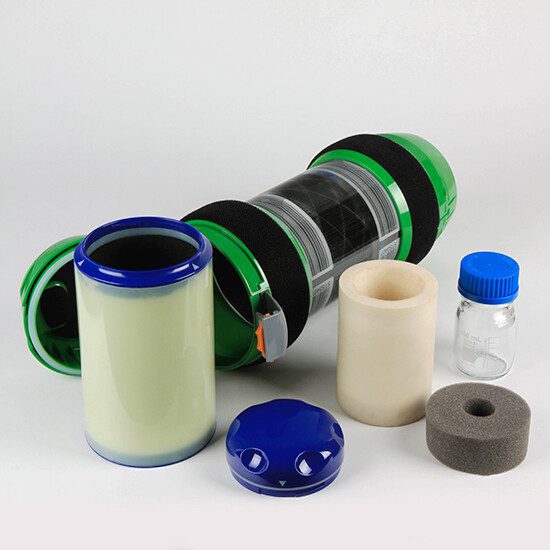 The custom laboratory carrier fits the needs of hospitals and hospital laboratories perfectly. The carrier is leak-proof and easy to handle. Furthermore there are various inlays that broaden the use in hospitals. For example, we offer an inlay for test tubes and an inner carrier that is temperature resistant.
More information can be found in the brochure on the right. A selection of our other carriers is shown within the section "Carriers".
Air tube transport systems for hospitals
The most hospitals use our system H61. It can be supplemented with special carrier inlets that prevent transport items from damage.
For easy requirements in the transport
Get more information about the 2-Point System H21. This is our small system for the simple transport between two points that reoccurs regularly.