Smart Universalsystem H61
Full features for complex plants
The system H61 uses ultra-modern technology to accommodate different requirements of in-house logistics. Various hospitals and companies use our H61 because it fits their needs perfectly. It is suitable wherever more complex logistics problems must be solved.
In contrast to our smaller 2-Point System H21, the system is computer controlled. This enables various additional features. We offer a range of smart additions in conjunction with our RFID-carriers – for instance the automated management of empty carriers or the priority sending of especially important goods.
The Smart System H61 can be used for up to 255 zones and 32.000 stations with diverters and passage methods. Our newly developed transfer method using a space-saving 16-fold turret enables significant shorter transport times than conventional transfer systems.
A variety of different stations can be mixed to match your needs. In the latest version, the stations are equipped with a 10″ touch screen as control and display panel.
Features of the system H61 standard equipment
Menu-guided operation in different languages (Chinese, English, French, German, Thai)
List of existing station numbers
1- to 16-digit selection
Operation of all service functions with a portable programmer
Remote control from each station or diverter
Auto-setup function to parameterize central control
Elimination of possible anomalies in the system through various algorithms of the software and through test routines
Regular system operation after power outages with all carriers driving to their previously defined destinations
Consistent ESD protection – CE-certified design
Automatic checking of all integrated tube contacts to predict switch failures
Error passive – failing components will not cause problems to other devices on the bus
Tolerance of the control program against switch failures
Automated carrier return via ID chip
Storage 200 or more upcoming deliveries and cross-tabulations of the sending rate
Shutdown of individual groups
Control of traveling speed
Control of the transport route
Priority sending of important items
Centronics printer interface (IEEE448), optically-coupled
PC interface connectable at each device within the system
Low energy needs concept means no additional power supplies and correspondent 230V-connection needed
Standby power consumption only 24 W for 30 installed devices
Transfer function for up to 255 additional lines, supported in all customary types of transfer designs (ring, star and network)
Due to HÖRTIG multi-master bus: cable length up to 1500 m without additional power supply unit, supporting up to 120 stations and 120 diverters on each line
Station Design with 10" Touch Screen
Quick and efficient sending process
Choose from personal Top 3 / Top 10 destinations
Choose from station's Top 3 / Top 10 destinations
Grouped destination lists
Quick dial (e.g. last receive, last sent)
Send and receive history
Transport speed: slow, fast
Priority: norm, fast, now
Adaptable to individual needs
Fully configurable: e.g. layout, colours, names and display of specific elements
Multi language, including Arabic, Cantonese, Thai etc. – any user language integrable
Many optional features: e.g. display of video, audio and messages
Resolution: 1024 × 600 pixel
10" big, easy to read display
Intuitive interface
High quality surface file for long-term use
Station types for the smart Universalsystem H61
For the pneumatic tube system H61, you can choose between the following stations:
1-fold, 2-fold, or 3-fold sending station (dispatch from below)
Top-loader
Front-loader 1- or 2-fold
Table-station with fully automated carrier dispatch
Endstation with receipt and dispatch from below
Automatic-endstation
Sending and passage Station
Beginning, passage and endstation
Laboratory station with smooth reception bow or conveyor belt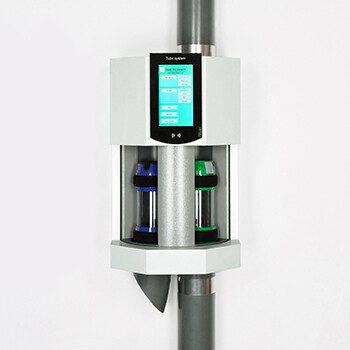 Selection of our pneumatic tube stations for our system H61
Recap of the H61's benefits