Advantages of Pneumatic Tube Transport
Benefits of the smart pneumatic tube transport systems for your intralogistics
There are a lot of benefits of pneumatic tube transport. The systems can solve a wide range of intralogistics issues. The reliable systems bridge small and huge distances fast and safe. Pneumatic tube transport is flexible concerning the conveyance time, the speed and the transported goods. Due to the intelligent carriers of our smart pneumatic transport systems the conveying process can be fully monitored, documented and optimized. This results in especially cost-effective in-house logistics. Pneumatic tube transport systems can be installed in space saving ways and either almost invisibly or aesthetically appealing as engineering art objects.
Learn more about the benefits of our pneumatic tube systems
Pneumatic tube transport is reliable concerning the quantity of the transported goods, their transport time and their specific characteristics upon arrival, providing a 24/7 operation.
By using RFID chips the transported goods can be tracked permanently. By that, a complete chain of custody is ensured.
Our broad service offer as well as our technological development and the optimized production processes ensure that our pneumatic tube systems are consistent with the highest quality.
Pneumatic tube transport systems are designed so as to avoid human error. Dispatch and receipt are easy to handle and allow little room for mistakes by the users. Furthermore, our coloured and electronically coded carriers can be sent automatically to predefined receiver docks without the need to enter a destination when sending. The special design of the stations prevents the dispatch of overloaden carriers.
We offer various carrier inlets to protect the transported items. These were developed individually for specific goods and guarantee secure conveyance. The carriers provide protection from environmental influences and avoid contamination. Thanks to the closed conveyance circuit, objects are not passed through many hands. Techniques such as our patented Air Brake protect sensitive goods.
Likewise, the use of pneumatic transport systems improves the security of and for employees. They do not have to walk great distances with sensitive or dangerous materials or large sums of cash.
Pneumatic tube systems are the fastest transport option in companies. Goods can be sent at a rate of between 1 and 20 meters/second. Large distances within and between buildings can be covered quickly.
Pneumatic tubes are suitable for both, automated and on demand transport, as may be required for blood samples in hospitals, for example. It is possible to deliver goods to the desired destination at any time, just in time.
This ensures a low through-put time and a fast work flow because materials can be utilized continuously and time for handovers and testing of samples, for example, are reduced considerably.
Pneumatic tube transport systems offer flexibility of transport and operation around the clock. Spontaneous transport requirements can be managed easily.
The systems are relatively open to transporting a wide range of goods. The carriers convey practically anything – including cargo or bulk good. The temperature within and outside of the system can be kept stable if required during the planning of a building as well as the physical properties of the good. Pneumatic transport systems can safely convey toxic and highly sensitive items.
The only constraints are the size and weight of the freight. Most are smaller but modern systems can transport goods with a diameter of up to 500 mm and a weight of up to 50 kg.
HÖRTIG air tube transport systems are smart systems that can be embedded into the electronical information systems of your buildings. A purpose-developed software transforms the pneumatic tubes into a smart pneumatic tube system. Carriers become smart objects with purpose-configured RFID chips.
This enables the real-time data collection and an entire integration into operating and production processes. Data is gathered, stored for further use and process control. The smart pneumatic tube system can also interact with its surroundings (e.g. laboratory information systems).
We programmed around 50 specialist apps that expand the functional range of the conventional pneumatic tube. It is possible, for example to request and to digitally document the transport process. Our monitoring solutions indicate the location of an item at any time, the transportation route and the remaining transport duration in real-time. This is possible even in very complex systems and enables the prioritization of goods or specific routes within a system.
Our smart pneumatic tube systems provide valuable information for your internal process management, the analysis of the flow of materials and strategic planning.
The initial investment into installing a pneumatic tube systems amortizes fast. It can take only a few years for the pneumatic transport system to have paid for itself, especially when integrated into a production process.
In addition to the mentioned advantages a pneumatic tube system reduces personnel costs because errands are automated and the reliability of transport processes is increased. Pneumatic tubes can bridge wide company areas: neither rain, snow or heat interrupt delivery and transport in ceilings or in the air avoid additional on the ground traffic on your premises.
This improves the efficiency of a business and its turnaround times. Unproductive activities are reduced, distances between buildings covered quickly and items transport of items alongside or integrated into high-throughput production processes can be organized in a time-saving manner.
Compared to other methods of transportation, pneumatic tube systems can be installed behind ceiling panels and wall panelling. Valuable ground floor remains free for production activities. At the same time, the tubes do not necessarily affect the visual appearance of rooms. They operate largely invisibly in the background.
Even when the tubes bridge distances between company buildings, they can be installed in space-saving ways. Buried tubes, aerial tubes or tube bridges do not require space on the ground. Pneumatic tube systems reduce the traffic on streets and paths across factory premises.
Although the pneumatic systems are mostly installed invisibly except for sending and receiving stations, they can also be built so at to be visible and function as objects of art with attention drawing designs. The systems can be integrated into the aesthetic design of rooms and buildings.
Above the wall or in room tubes and diverter can be given different colours to visualize different transport zones or you can see coloured carriers slide through transparent acrylic glass tubes. Such an installation can be fascinating for visitors of your building and demonstrate your investment in technology.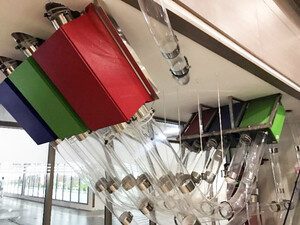 Positive effects of the systems for your business
Explore the advantages of pneumatic transport for your specific area