Our Knight in Shining Armor Leo – Service Technician for 10 Years
You have asked yourself who is actually behind Hörtig Rohrpost? Or you are interested in a job in our technical customer service and would like to get an insight into the department? Then the interview with our colleague Markus Leonhardt aka "Leo" is just right for you. As a service technician, Leo is on duty every day with customers whose systems need to be installed, maintained or repaired.
Leo, how long have you been working for us and how did you come to Hörtig Rohrpost GmbH back then?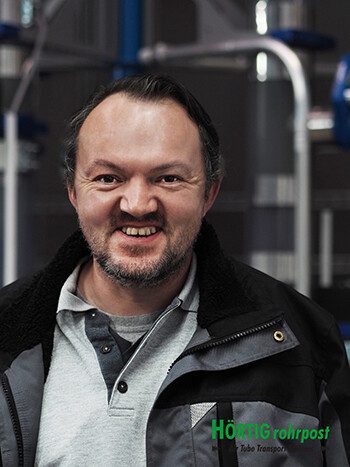 "I've been here for more than ten years now. Immediately before I was hired as a service technician, I was a telecommunications craftsman for about a year through a temporary employment agency. Before that, I did my training in the German Armed Forces. At that time as an administrative assistant. This was followed by further training as an accounting specialist. During my time as a temp, I was on the road from Monday to Thursday and then spent the weekend looking for job ads for a permanent position."
And you already knew Hörtig Rohrpost GmbH, right?
"Yes, at that time I wanted to do something manual directly after business school, because working in an office seemed too boring to me. My teacher at the time suggested that I could apply for an apprenticeship at Hörtig Rohrpost GmbH. At that time, however, nothing came of it and my application was rejected. When I then came across the job advertisement for a service technician at Hörtig Rohrpost GmbH during my temporary employment, I remembered it and applied again – this time for a permanent position."
How did it go from there?
"I sent off my application on Sunday evening, was called on Monday and then had my interview on Thursday evening, at that time with Mr. Hörtig himself. Everything went quickly, as Mr. Hörtig then left for a business trip to China. I was also accepted quickly and was able to start two weeks later."
So you started with us as a career changer?
"Exactly, that was one of the reasons why I applied. That lateral entrants were also given a chance. The second reason was that there was also the possibility of traveling abroad on a professional basis. That appealed to me at the time."
Would you say that it's easy to join us as a career changer?
"I'm always of the opinion that you can never know everything. I would never say I know everything or I can do everything, because here in particular you are always learning. There are always new cases and special cases where you don't know directly how to resolve the issues. Then, of course, the products, the software, the stations are constantly evolving. You always have to keep learning. So you shouldn't worry if you're a career changer, as long as you're motivated."
At the time, you were particularly interested in the possibility of foreign assignments. How often have you been outside Germany in the last ten years?
"Regularly. Started with Finland, Russia…Turkey, Kazakhstan, Saudi Arabia, China, France, Oman, and now next week I'll be in Dubai."
But assignments abroad are still the exception. Most of the time, you also work within Germany. How often are you typically on the road as a service technician?
"That's quite different. Most of the time you're away overnight, but in my case, for example, I tend to be away for just one day at a time. But the others are usually with the customer for a few days at a time. On weekends, however, you're at home. Often, a lot of work is done in advance from Monday to Thursday, and then you can drive back to Bayreuth on Thursday evening or Friday morning. Everyone does it the way they feel they can. Some prefer to spend an extra night in a hotel, while others drive home at night on Thursday after work."
Do you feel like there's enough long-term planning for when and where your missions go?
"At the moment it is difficult because the responsible colleague was sick. But normally you know sufficiently in advance how you will be on duty. You also have to be able to plan your private life."
Where do you typically travel?
"Quite different. The furthest within Germany so far has probably been Norderstedt. In general, however, we are in operation all over Germany."
What do you think you need to bring to the table to be a good fit for the service technician job with us?
"In any case, be open to learning new things and getting away from any structures. You start here with a job that probably no one has learned exactly like this before. If you're open to learning something new and if you're a reliable and motivated person, it's a good fit. Pipe construction is the same at every company, but the software and electronics in particular vary from company to company. Everyone has to learn the ropes first."
Are there any specific physical requirements?
"No, an average fit person can do the job well. Sure, you have to lift stations or handle stainless steel pipes, but together with a colleague you can do it well."
What do you like best about the job?
"The variety. You never know what's going to happen. You drive to the customer and know there's a glitch – but what exactly is going on is always a surprise. I like this variety. And also the people in the department. We have a good atmosphere and we all get along with each other."
What do you do after work to relax?
"I have a cat and I ride my bike a lot. I just rode again this weekend. In the winter I go on the cycle trainer and when it gets warmer I like to do bike rides outside."
You can also imagine working as a service technician?
Then have a look at our current vacancies! If you have any questions, please contact us by e-mail at personal@rohrpost.de or by phone or Whatsapp at 01590/4619238.