Especially space-saving and affordable.
Our 2-Point System H21 is the smallest and most budget-friendly pneumatic tube system option. It consists of two stations and a tube that links them. The H21 can send in both directions (A→B and B→A), but only in one direction at a time.
Users do not have to type in the destination when sending a carrier, because the H21 is a one-line system. That means that dispatch is especially fast.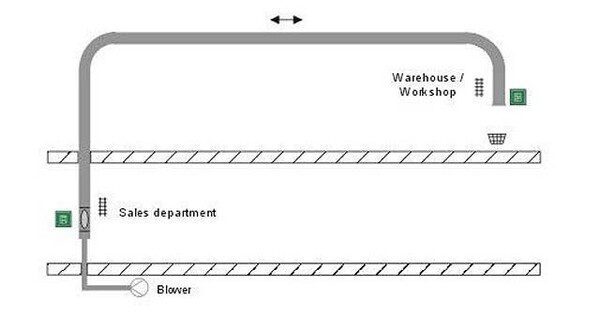 Examples of goods customers convey with the H21:
Delivery notes
Invoices
Cash-vouchers
Laboratory specimens
Handcraft
Denture casts in medical labs
Drawings of a size of up to DIN A0
Films in photo laboratories
Tools at manufacturers
Marking plates in the car industry
Numerous other applications are in daily use or possible. The H21 is suitable for all needs where items must be transported regularly between the two locations linked.
If required, the 2-Point System can be supplemented or enlarged individually with more components at any time after initial installation.