Introduction of Stefan Grießhammer| Our technical all-rounder
Stefan Grießhammer is our technical all-rounder in our company. In the interview, he reveals which tasks he has already taken on in the company and what his area of responsibility is today.
What does your professional career at Hörtig look like, Stefan?
After my high school graduation, civilian service, a started study and a time as a cab driver in my young years, I started an apprenticeship as an industrial electronics technician with the specialization equipment engineering at Hörtig Rohrpost in 1992. Today, this is very close to an apprenticeship as a mechatronics engineer. After the apprenticeship, I then worked for a few years in assembly and service. After that, I was the contact person for our international customers for a while. In addition to general inquiries, I also conducted training courses at our dealers abroad. Parallel to this position, I worked in quality assurance. I also took an in-service programming course for C++ at the Chamber of Crafts in Bayreuth. Since then I have been working in software development. In addition to pure software development, I am also on site during commissioning at customers to make final fine adjustments and thus ensure a smooth start of a new system. I also work in mechanical development and am responsible for 3D printing of prototypes, for example. Finally, I help with troubleshooting and analysis and the associated repairs of electronic components.
What were the highlights of your time with us?
I have fond memories of my time as a contact person for international customers. In the early days, I was in Asia for 7 weeks for training and commissioning. By a lucky coincidence, I was able to take my wife with me on a business trip. So we were able to visit Shanghai, Beijing and the Great Wall of China in our free time. In addition, I have always enjoyed working with computers, which is why I really liked the change to the software division. I also discovered that the research and development department is a very exciting field for me and that I enjoy my work even more in this area.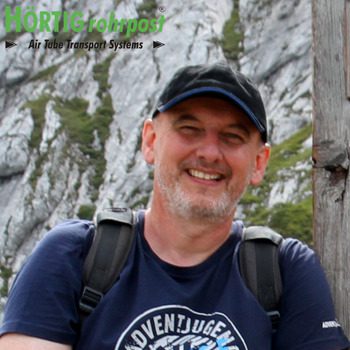 Why do you find the pneumatic tube sector particularly exciting?
The principle of pneumatic tube mail is already very old. However, there are always new challenges. 150 years ago, there was no pneumatic tube software, no statistics and no predictive maintenance. Transport tracking via transponders had not yet been invented, and no one had yet thought of the automatic unloading of incoming shipments. So there are always new building blocks and challenges. I think that's great and, above all, varied.
How do you relax in your free time?
After work and on weekends I like to go rope climbing in the hall. I also like to take pictures. I especially enjoy taking pictures of nature. And I create a photo calendar for family and friends every year.