Using the pneumatic tube system H61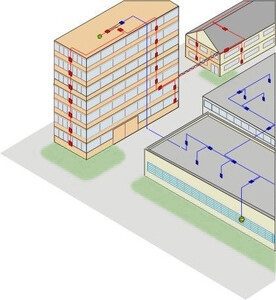 The new generation of smart pneumatic tube systems upgrades and adapts the pneumatic tubes' control systems to the constantly increasing demands of the market. It uses ultra-modern technology to accommodate different requirements of in-house logistics and communications, as well as the different application areas of pneumatic tube systems. Various hospitals and manufacturing companies use our H61 because it fits their needs perfectly. It is suitable wherever more complex logistics problems must be solved.
In contrast to our smaller 2-Point System H21, the system H61 is computer controlled. This enables various additional features. We offer a range of smart additions for the system H61 in conjunction with our RFID-carriers – for instance the automated management of empty carriers or the priority sending of especially important goods.
The Smart System H61 can be used for up to 255 zones and 32.000 stations. It is based on the diverter and/or passage principle and a variety of different stations are on offer and can be mixed to match your needs. The stations are equipped with LC display and numerical keyboard (1- to 16-digit destination selection). Commonly, the destination is selected at the sending station and the transport carrier automatically dispatches, automatic sending is also possible. Our newly developed transfer method using a space-saving 16-fold turret enables significant shorter transport times than conventional transfer systems. This type of smart system meets all the requirements of modern in-house communications and logistics in medium-size and large companies.