Clever features of Hörtig pneumatic tube systems
Pneumatic tube systems from Hörtig Rohrpost GmbH have a number of smart and clever features that make your everyday work easier and pneumatic tube systems modern even in today's world.
Below you will find some of them: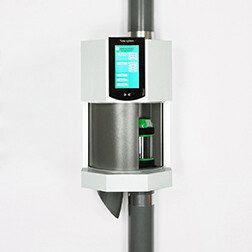 The 10-inch touch screen scores with its well thought-out user interface. The use of the touch screen is particularly easy and individually customizable. Sending items using a pneumatic tube station with the touch screen is fast, and the user can also use practical sending options.
HEPA filters (high efficiency particulate air filters) prevent viruses, bacteria and aerosols from moving through the pneumatic tube system from technical to medical areas. In this way, you actively protect the health of your patients and employees.
Shipment of cytostatic drugs | But Safe!
Specially designed pneumatic tube carriers prevent cytostaticssent by pneumatic tube from contaminating the pneumatic tube system or endangering the health of your employees. The pneumatic tube carriers are protected from leakage, damage and temperature. If this were to happen, the pneumatic tube system would be down for days and would require extensive cleaning – that would be fatal. Therefore, use these particularly safe pneumatic tube containers. In addition, these containers significantly protect their employees! You can find more information here.
Intelligent pneumatic tube software | Demand-driven service
Statistics(including usage statistics of different pneumatic tube stations, operating errors, general system errors and peak times) enable optimization of the system design according to requirements
With the History app, a complete transport history can be viewed. Each individual carrier and transport process can be tracked. Missing shipments can thus be tracked down quickly and easily. Through various key figures, the user is also quickly alerted to irregularities and can thus act particularly quickly.
By using Hörtig's pneumatic tube software, possible errors are anticipated and thus detected at an early stage. Maintenance of the pneumatic tube system is initiated in a timely manner. Cost-intensive consequential damage is averted and avoided. With on-demand service and higher plant availability, there are fewer nasty surprises.
Arrival screen | Information about pneumatic tube shipments
Employees have the possibility to be informed about the following transports of the pneumatic tube system through the arrival screen:
Which shipments arrive?
Which shipments have a special priority?
Who sent the incoming shipment?
When were shipments sent and when will they arrive?

In the event of ambiguities, employees can take action and clarify them themselves.
It also reduces the risk of important samples and medications going unnoticed.
Conclusion
Smart and clever features of the modern Hörtig pneumatic tube systems
Holistic tracking of shipments sent with Hörtig pneumatic tube systems
Digitized control of all steps of the transport system
Cost reduction due to fewer untraceable goods
Networking of the Hörtig pneumatic tube system with your information management system for more efficient work